Testimonials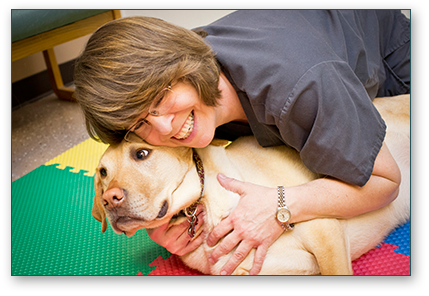 "Our adopted two-year-old Golden Retriever, Max, has severe hip issues and is recovering from one hip replacement. The therapy provided at Pawsitive Steps has resulted in a marked increase in Max's strength, stability, comfort, and endurance. Dr. Ballengee's caring approach, experience, and knowledge have made (and continue to make) a major positive contribution to the wellness of our beloved Golden Retriever."
—Mark, Pat, and Max Lunday
"Peanut loves Dr. Ballengee. How do I know? It could be that on Tuesdays he just knows we will be going to see her, so he stares at his leash. It might be how he can't wait to get out of the car when he realizes where he is. Or it might be how he wags his tail at warp speed when he sees her and shows her how well he is walking. Or maybe how he closes his eyes in bliss as she massages him into a puddle of joy. I, on the other hand, love her because she makes my boy feel like that!

The 'Nut looks very much like a Dachshund, and with that comes the Dachshund back. In January the worst happened, and very quickly he was dragging both legs, in pain. We of course went to the vet, and for a week not much changed except he was out of pain. During this time I did a lot of research and knew acupuncture was something I wanted to give a try. My vet agreed and recommended Dr. Ballengee, who was able to see me the next day.

Not only did she listen to me, but also to Peanut. It has taken time, but the 'Nut is back in his yard, a funny little wiggle in his run—not as fast as he was, but I think that is just a few weeks away. Dr. Ballengee is kind and compassionate, and she takes care of your pet like she would take care of her own pet. What is more, I like her as a person and I trust her as much as Peanut does."
—Karen and Peanut Grane

"When our beloved Aussie Shepherd and Chow mix, Hobie, was diagnosed with Degenerative Myelopathy (DM), we were devastated. The vet told us that our family member of 13 years would only live another six to twelve months, with six months being the most likely scenario. A dog that has this disease gradually loses the use of his back legs to the point of complete paralysis. Although DM is painless to the animal suffering from it, we were deeply concerned about how this would affect Hobie, since he was a herding dog who loved to run around the yard and go for long walks. We didn't know how we would cope with Hobie's increasing disability, especially as he was already getting depressed by his decreasing mobility.

Then, the specialist who diagnosed Hobie recommended Dr. Ballengee to us. From the outset, she demonstrated a special rapport with her patient, beginning with refusing to muzzle him during treatment despite the fact that he was a biter!

Dr. Ballengee's calm demeanor, professionalism, and gentle handling of Hobie quickly earned both his and our trust. Her acupuncture treatments, which became more frequent as his condition worsened, made a visible difference in both Hobie's mobility and his mood. Dr. Ballengee was candid about the limitations of treatment for his condition from the very beginning, but her care made a world of difference for our boy. She made us partners in Hobie's care and became a trusted friend of our family. Eventually, Dr. Ballengee measured Hobie for a mobility cart, which allowed him to continue going for walks long after his back legs failed (and even made him something of a neighborhood celebrity).

Thanks to Dr. Ballengee, Hobie was able to enjoy life for another SIXTEEN months. Along the way, "Dr. Marie" helped him to exceed everyone's expectations and we cannot thank her enough all she did for us!"
—Maria and Roger Tompkins