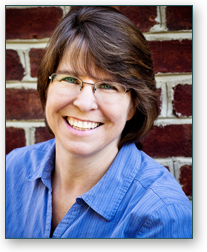 About Dr. Ballengee
"For me, there is a great sense of satisfaction in helping a pet get a second chance by walking again or being in less pain. Our animal companions are so very important to all of us, and we want them to have a longer and better life."


—Dr. Ballengee
Dr. Marie Ballengee is a graduate of North Carolina State University's College of Veterinary Medicine. She is a Certified Canine Rehabilitation Practitioner (CCRP) through the University of Tennessee, and she is certified in Medical Veterinary Acupuncture through Colorado State University. Her undergraduate degree, a BS in Pharmacy, is from Purdue University.
Originally a pharmacist in the hospital setting, Dr. Ballengee enjoyed seeing how the different disciplines - physicians, nurses, physical and respiratory therapists, social workers, and others - worked as a team to contribute to successful patient care. She loved clinical medicine and always found learning how our bodies work fascinating and remarkable. While she couldn't see herself becoming a doctor for humans, she decided to become a veterinarian for small animals, graduating from NCSU's veterinary college and entering veterinary practice.
She has practiced as a veterinarian in small animal practices in the Triad since 2002. In 2005, her own dog, a Doberman named Bosco, had back surgery and became her first rehab case. She says, "Bosco was my inspiration for so much of my veterinary career!" After becoming the first veterinarian certified in the Triad in canine rehabilitation in 2006, she joined Carolina Veterinary Specialists, where she practiced as a full-time canine rehab vet until 2008.
Dr. Ballengee is affiliated with the AARV (American Association of Rehabilitation Veterinarians), IVAS (International Veterinary Acupuncture Society), ACSMA (American Canine Sports Medicine Association), NCVMA (North Carolina Veterinary Medical Association) and AVMA (American Veterinary Medical Association).
She has three four-legged "children" – two rescued Dobermans, Melony and Bocelli, and one cat, Sophie.