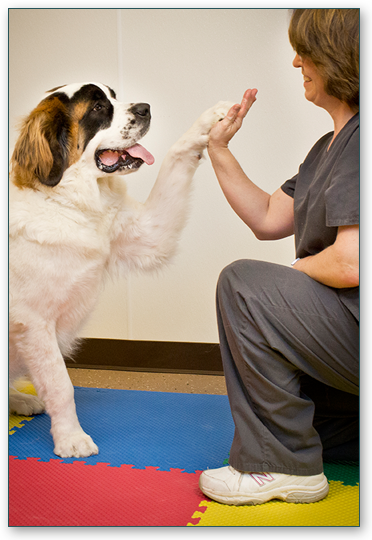 At Pawsitive Steps Pet Rehab and Fitness Clinic, we give your pet a new leash on life!
As pet rehabilitation specialists, we are here to help you restore and maintain your pet's mobility, fitness, and comfort. Many area veterinary practices refer pet patients to Pawsitive Steps for rehabilitation for recovery after surgery, age-related discomfort, neurological disorders, weight management, and overall conditioning. Whatever the reason we treat your animal companion, our ultimate goal is to improve your pet's quality of life.
Physical therapy isn't just for people – dogs and cats benefit, too.
People often have physical therapy when they've been injured, required orthopedic or neurologic surgery, or suffer from chronic conditions like arthritis. We often are prescribed physical activity to help manage weight or condition our bodies for competitive athletics. In the past, injured animals were simply crated to limit their activity for several weeks after surgery or injury. Today, veterinary professionals recognize that family pets benefit from the same rehabilitative and conditioning activities humans do—speeding recovery from injuries, reducing the likelihood of new injuries, decreasing pain experienced with chronic conditions, and improving general fitness levels. For more information about conditions we treat, visit our
FAQ page
.
We have proven and top-of-the-line tools to help us help your pet.
At Pawsitive Steps, we practice animal rehabilitation using a variety of proven tools and therapies to improve your pet's quality of life, including:
| | | |
| --- | --- | --- |
| Underwater Treadmill | Electrical Stimulation | Acupuncture |
| Thermotherapy | Therapeutic Exercise | Laser Therapy |
We provide compassionate, effective treatment designed by the first canine rehabilitation-certified vet in the Triad.


Dr. Marie Ballengee, DVM, CCRP, cVMA, was the first vet in the Triad certified in canine rehabilitation. Under her expert, compassionate guidance, pets receive individualized treatment plans that are aimed at encouraging recovery and increasing functionality in many different situations, including:

Following orthopedic or neurological surgery, limb weakness, balance problems, and other conditions
Managing obesity
Encouraging rehabilitation after sports injury
Conditioning for athletic or weak pets
Help for elderly pets with pain and stiffness from osteoarthritis and degenerative joint disease
Find out how we can help your pet.
Our treatment options include in-clinic rehabilitation and exercise and/or home exercise plans. For more information about how Dr. Ballengee can help your animal companion get a new "leash" on life, contact us at
336-317-3466
. We look forward to meeting you and your pet!